Hello, and welcome to Lawnscaping challenge number 71
This time we want you to make a tag or a treat bag
I LOVE making tags en treatbags.
I allways do that for birthdays or other occasions :)
We are sponsored by SIMON SAYS STAMP, they're offering a 25 dollar gift certificate, that's awesome isn't it!!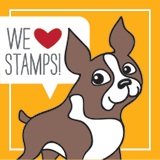 This is what I've created:
I've made some tags and treatbags for my mother and sisters.
I'm so thankfull for what they did for me this year
I'm goïng to take them for a high tea
Also you can read all about how to enter the challenge and the challenge rules over there