Hello and welcome back to another Lawnscaping Challenge AND THE FIRST CHALLENGE OF 2014.... Challenge 73 marks the beginning of our 4th year! YEA!!!!! So it is only fitting we carry on the tradition of having a PARTY THEMED Challenge! Show us your best birthday projects!!! :) Bring out the cake, the candles and let's celebrate!
We are thrilled to announce that the AMAZING Simon Says Stamp will continue their sponsorship for 2014!!! THANK YOU SIMON!!!!!!! The winner will receive a 25 dollar gift card from Simon Says Stamp,

that's awesome isn't it!!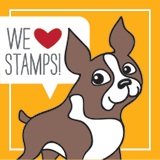 And this is what I've created for our birthday challenge:
To see all the design team creations please visit the
Lawnscaping challenge blog
Also you can read all about how to enter the challenge and the challenge rules over there
Thanks for visiting my blog